Sophie's Pratt Exhibit 2012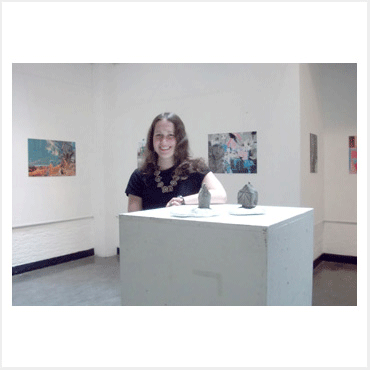 Sophie's Amsterdam Exhibit 2011
Sophia Marie Peters
I am seeking positions where I can combine my creative and social skills/experience to work with children and the community to promote the arts and education.
Education
Pratt Institute
200 Willoughby Avenue, Brooklyn, NY
2008-2012 BFA in Fine Arts, Painting
Presidential Scholarship Awarded 2008-2012
Amsterdam School of the Arts
Spring 2011 Semester, Amsterdam
Skills
Professional experience in various art mediums including painting, photography, printmaking, sculpture, and teaching/assisting with ages 6-21.
Art Exhibitions and Awards
2012 Pratt Painting Club Senior Group Show (juried selection)
Pratt Institute, Brooklyn, NY
2012 BFA Senior Thesis Show
East Hall Gallery, Pratt Institute, Brooklyn, NY
2008-2012: Pratt Presidential Scholarship Award
2009-2010: Artwork selected in various group shows at Pratt Institute
2008: Ely Slade House: City Art Exhibition (juried selection)
Work Experience
09/10/2012-Present: Toddler Teacher
Kindercare
For ages 1-2.
05/2012-Present: Hostess
Eli's On Whitney
Seat guests, bus tables, answer phone.
06/2012-08/2012: Art Assistant
Audubon Arts Program, Neighborhood Music School
Led art intensive classes for children aged 6-11. Assisted kids in creating sets, props, and costumes for numerous theater productions.
08/2010-05/2012: Residential Advisor
Pratt Institute
Advisor and mentor to freshman students. Built floor community, organized programs and social events, crisis intervention and conflict mediation skills, small staff team work, administrative paperwork, managing of budgets.
06/2010-08/2010: Residential Camp Counselor
Circus Smirkus
Supervised campers aged 6-17 and led classes in visual arts and circus training, served as a mentor and mediator, Greensboro, VT.
06/2009-08/2009: Residential Camp Counselor
Shire Village Arts
Supervised campers ages 8-14,organized activates, led visual art classes.
Shire Village Camp, Mellor Road, Cummington, MA.
04/2008-08/2008: Food prep/cashier
Brueggers Bagels
2425 Dixwell Avenue
Hamden, CT
09/2004-06/2007: Trinity Choir for Men & Girls
Trinity Church
New Haven, CT
Children's and Adult choir member for highly selective professional girl's choir
2005-2007: Teen Docent Program
Art Space Gallery
New Haven, CT
Curate shows, install artwork, assist local artists, and lead tours of annual "City Wide Open Studios."
Volunteer Work
2005-Present: Artspace Gallery
New Haven, CT
Set up and assist during art openings and large events.
2010-2012: Dalzell Productions
New York, NY
Volunteered for production company at events: Dumbo Arts Festival, Municipal Art Society Summit, assisted with office and administrative work.
2003-2007: Trinity Church Youth Group Mission
Two mission trips to Tennessee and Puerto Rico to improve homes of poor elderly residents and repair homes damaged by hurricanes.
View, download, or print the PDF version of my resume.